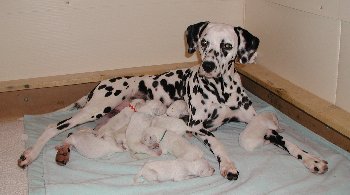 Welcome To My Home Page
Dalmatians are a fun, athletic, beautiful breed of dogs. They are also multi-talented. The goal of my breeding program is to produce Dalmatians that are great companions. Many of these Dalmatians are also able to compete in Conformation, Agility, Obedience, Road Trial and Tracking. This web site will tell you all about my multi-talented Dalmatians.
Arrival of 9 puppies on 12-11-03!!!
Pictured above is our newest litter of puppies. Mom is Volunteer's Intrigue (Ch Volunteer Paisley Perfecta X Am/Can Ch North's Sir Wags a Lot). Rika has 8 points toward her Championship, including a 4 point major. The puppies were very large, so she had her work cut out for her. She has settled into being a first time mom beautifully. When the babies are out of the nest, she will work on finishing her Championship. Rika is owned by Jacqueline Delaney of Volunteer Dalmatians.
Dad is Ch Anticipation Reflection NA, NAJ, CGC (Alfredrich Volunteer Copyrite X Ch Volunteer's Hour of Anticipation CDX, OA, OAJ, CPC, CGC.) You will see more titles earned by Gage in the near future. He is owned by Donna Truitt.
We are excited about the potential of these new puppies. They are all black and white, no patches. There are 6 boys, 5 of which wieghed in at almost 1 lb. at birth, and 3 girls. Two of the girls almost hit the 1 lb mark as well! Everyone is nursing well and growing every day. Dew claws were removed yesterday and bio-sensor stimulation begins today. It is my intention to post at least weekly pictures of the puppies with written updates on their activities. So keep an eye out for more info!!
Ch Anticipation Reflection NA, NAJ, CGC "Gage"